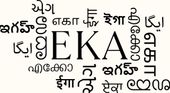 Beautiful Borderless Kanjivaram Saree From Rasvriti
Eka, the oneness in creation. Kanchipurams have an unmatchable opulence when it comes to design and weaving. Often considered to be occasional clothing, the comfort of Kanchipurams are locked up in almeras for the longest time. Rasvriti brings to you a collection of borderless Kanchipurams, made for the working days, simple, comfortable yet charming.
While we cherish our traditional kanjivarams, they need not remain occasional wear. Our Borderless Kanjivaram Saree Silk collection is designed to challenge the notion of the Kanjivaram being relegated to the back of your closet, only to be bought out on select occasions that hold promise. Explore Rasvriti's take on the Borderless Kanjivaram, ethereally light silks which are the perfect confluence of comfort and charm to transform your everyday wardrobe.
Rethink the idea of office wear and casual wear with these all day kanjivarams, which feel weightless and effortless to wear while reaffirming the multi-faceted beauty of Kanchipuram Pure Silk Sarees. With an innate sense of geometry and a pleasing colour palette of cheerful yellows and pretty pastels along with a splash of deeper shades, these sarees allow for a pared down version of the classic, perfect for living your day-to-day life.
Go from day to night with ease in these ethereally light sarees by dressing them up or down with your styling. These sarees also are the perfect canvas for contemporary styling options with elegant, muted gold and silver jewellery and stylish handbags. We take pride in the rich heritage of the craft of kanjivaram and with this collection we reimagine the traditional drape with a simplistic luxe aesthetic, making a Borderless Kachivaram an essential to your wardrobe. We conceived this collection keeping the modern Indian woman in mind- designing a saree that doesn't hinder her colourful life while also enabling her to proudly wear her heritage.
Delve into the versatile beauty of our borderless kanjivarams with drapes that take you through busy boardrooms and brunch plans with ease. Discover Rasvriti's Eka collection designed to suit your day to day while maintaining the allure of the "queen of silk", the classic Borderless Kanjivaram Saree.